---
Sedona Arizona Hotels - In Sedona AZ Lodging Choices Abound: Sedona Cabins - Sedona Resorts - Sedona Villas
Discount Hotels Sedona - Budget Sedona Motels - Sedona Bed and Breakfast - Sedona Rentals - And, yes, more… We love El Portal Sedona. Here's why we think you likely will too.
Above: Juniper Room. All Sedona Arizona Hotels Pictures On This Page © El Portal Sedona
Featured On This Page - El Portal Sedona
Warm Hospitality, Effortless Luxury & Divine Design
We Adore El Portal Sedona… And We're Not Alone
Sedona Hotels - Top Picks
Andrew Harper, well known as "A Connoisseur's Guide to Peaceful and Unspoiled Places," loved visiting El Portal Hotel so much, in 2004, he graced the place with his…
Grand Award for Best Hotel of the Year

© El Portal Sedona
In his Hideaway Report, he called it a "charming… authentic… truly unique and luxurious in-town retreat." For it's understated elegance, high comfort, and thoughtful amenities, El Portal Sedona is already a stand out.
And what we love most about El Portal is its down-to-earth, natural vibe and, most especially, its extraordinarily well-crafted architecture and divine décor. Staying here is like being transported to another time… circa 1910…
Sedona Arizona Hotels - Top Sedona Lodges
The Overall Look and Feel
It looks and feels like an authentic turn-of-the-century Spanish hacienda. With beautiful center courtyard and fountain. And an abundance of natural materials, creating cozy "outdoors-inside" spaces.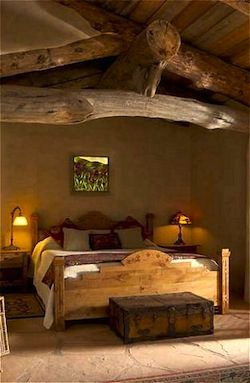 © El Portal Sedona
Meticulously designed, lovingly built, and conscientiously decorated, this is one "reproduction" that has fully realized its inspiration. And offers guests a one-of-a-kind Sedona AZ vacation stay.
In fact, Steve Segner, the very hands-on owner, personally carved the entrance doors to each of the 12 rooms available at his Lodge. His aim is for you to feel at home in a "very special and relaxing private" place.
Here are some details on what you'll find at El Portal:
Hand sculpted adobe walls that are 18 inches thick
High ceilings with raw word beams
A variety of vintage woods, like old timbers and organic peeled juniper
Interior surfaces that are smoothed and rounded
Special river rocks and stones
A sprinkling of gallery quality decorative tiles
Sedona Arizona Hotels - Top Sedona Lodges
The Rooms
There are uniquely designed and decorated rooms. No two are alike, but ALL include the following: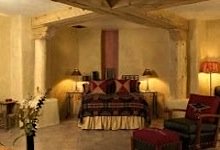 © El Portal Sedona
Corner fireplace
Jetted tub
Large walk-in shower
Exquisite furnishings, in the Arts & Crafts style
Hand sculpted and natural surfaces
Private entrances and outdoor spaces
There's also free high-speed cable access in every room, and Wi-Fi throughout. And an entertainment center with a DVD player.
There's an abundant variety of other inclusions, like stained glass, hand-painted detailing, rich raw stone…
Extraordinary tiling, granite, arched windows, french doors…
And on and on. If you appreciate Arts & Crafts style and comfortable, gallery-quality functional furniture, you will be in heaven here.
Sedona Arizona Hotels - Top Sedona Lodges
The Amenities
© El Portal Sedona
Beyond the visual feast, you'll also be welcomed to a delightful offering of afternoon hors d'oeuvres and wine, which is included with your stay. There's an open kitchen, so if you're looking for a nosh at an unlikely hour, you'll probably be accommodated.
This is not a bed and breakfast, but gorgeous morning meals can be enjoyed here, à la carte. This gourmet nourishment can also be delivered to your room, if you like. Substitutions and special dietary requests, are cheerfully prepared.
Fine evening meals might be enjoyed at Tlaquepaque Sedona which is few steps near El Portal Hotel. There are 5 restaurants there, including René at Tlaquepaque, one of our Top 3 Sedona Restaurants Picks, which offers fine French fare with Southwestern touches.
And, Tlaquepaque has 35 more venues that include some of the best Sedona AZ shopping, Sedona art galleries, and a variety of delightful boutique shops.
Sedona Arizona Hotels - Top Sedona Lodges
Rates, Notes & Directions
This is a very pet-friendly place, even for large pets. And kids are also very welcome here.
Rates range from about $200 to $500, per night, per couple. Pricey? For those who can afford it, I think it's El Portal Hotel is the best value in town.
Personal Note: El Portal Sedona is my #1 favorite of ALL Sedona Arizona hotels.
El Portal Sedona
95 Portal Lane
Sedona, AZ 86336
928-203-9405 | 800-313-0017
Click Here To See The Website.
Book A Room Online? Click Here.
Sedona Hotels We Adore
We hope you'll accept a big ATTITUDE of GRATITUDE for your interest in this guide and in our beloved hometown. YOU are the reason SedonaHappy.com exists.


The Real Sedona AZ
Red Rock Heaven On A Down-to-Earth Site
If you'd like to "share-it-forward," and help more people get this Sedona goodness, remember to mention this site to some people. Bookmark it. Share it. Fave it. Link to it. Keep this site growing strong! Thanks all.
Sedona Arizona Hotels We Adore
Our Visitors Are Our Motive and Our Power