---
Lodging Sedona AZ style. Get tips for finding the best Sedona hotels for views, amenities, nearby restaurants, activities. Unique characteristics of each Sedona lodging pick.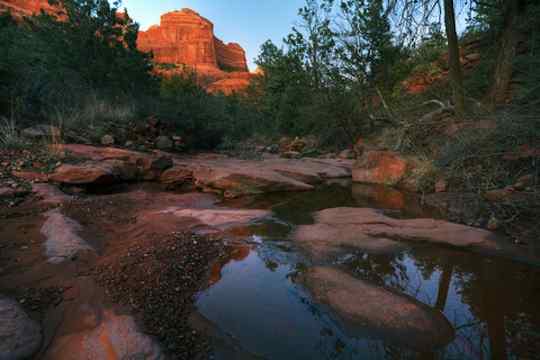 Schnebly Hill, Near this Lodging Sedona Arizona Pick | Photo © Alexey Stiop
The Amara Resort and Spa
Conveniently Located 4 Star Urban Chic Desert Retreat
A Sedona Hotels Top Pick
Intense Relaxation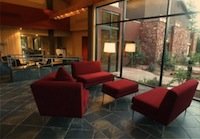 Photo © Amara Resort
AAA 4 Diamond, Amara Resort and Spa is where the cool people stay. Here's your desert getaway spot with a distinctly urban vibe.
Rooms and communal spaces are colored vibrantly and designed to suite a contemporary-modern aesthetic. There's a nice balance of rustic warmth and clean simplicity. You'll see raw slate tiled floors, high-quality simple furniture, and bright fabric colors.
Amara Lodging Sedona AZ
How Are The Rooms?
Well, if you stay here, you'd better like the color red. You're room will be boldly accented with it.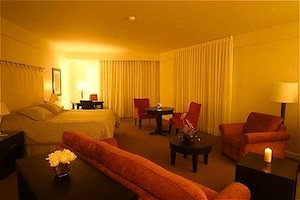 Photo © Amara Resort
The beds are a pillow-top heaven dressed in fine, bright white Italian linens. The bathroom sparkles with chrome, glass, and high-polish granite. Even sitting at the desk is a distinctive experience… ergonomically designed to be good for your body.
There's Wi-Fi everywhere. And, some rooms have large whirlpool tubs and rain showers.
Oddly, these otherwise completely hip spaces, still have tube style televisions. But, we've heard they're planning on replacing them with flat screens this year (2010). We'll update this page when/if it happens.
And, in case you're wondering, none of the rooms have fireplaces.
You can pick your Sedona lodging here according with your view preference. Creekside, Red Rock Vista, or pool side. Some of the rooms have semi-private outdoor balconies and / or patios.
Amara Lodging Sedona AZ
Location and Amenities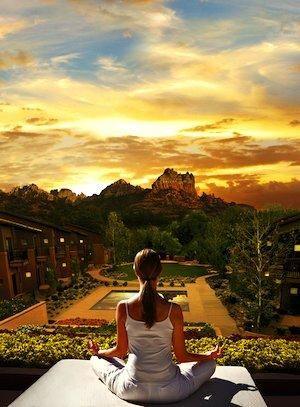 Photo © Amara Resort and Spa
The Amara's 22 acres, right on Oak Creek, are well positioned to offer some stunning Red Rock views. Especially from the onsite stand out Sedona restaurant, AAA 4 Diamond rated
Hundred Rox
.
Dine al fresco if you like, while savoring Californian-Italian inspired food.
Enjoy the twilight glow on a beautiful red monolith view while you cozy up with cocktails around the fire pit. Or hang out in the super-swank lounge.
Included with your stay is nice variety of breakfast choices, including waffles, eggs, bacon, sausage, fruits, yogurts, and granola.
The Amara can accommodate your Sedona wedding or corporate function too. There's a lovely courtyard and over 5,500 square feet of event-space.
Amara Lodging Sedona AZ
Stand Out Offerings
If you've driven in, yourself, let the valet-guy park your ride for free. Or arrange your own driver for personalized transport into town in a "green-chic" GemCar. Also free.
Serenitē Spa provides a great menu of services, like private creekside cabana treatment, intense-results facials, and even yoga instruction. Daily, you can attend a free Kripalu yoga class. You can also arrange private instruction.
Once the body is well-nourished, loosened and lightened up, if you like you can jump into the (small) swimming pool. What about the chlorine? No worries, it's a salt-water pool.
Rates range from about $200 - $300, per night, per couple.
Amara Resort and Spa
100 Amara Lane
Sedona, AZ 86336
928-282-4828 | 800-815-6152
Click Here To See The Website.
Amara Lodging Sedona AZ
Favorite Sedona Lodging Finds
We hope you'll accept a big ATTITUDE of GRATITUDE for your interest in this guide and in our beloved hometown. YOU are the reason SedonaHappy.com exists.


The Real Sedona AZ
Red Rock Heaven On A Down-to-Earth Site
If you'd like to "share-it-forward," and help more people get this Sedona goodness, remember to mention this site to some people. Bookmark it. Share it. Fave it. Link to it. Keep this site growing strong! Thanks all.
Lodging Sedona AZ - Amara Resort & Spa
Our Visitors Are Our Motive and Our Power