Hotels Sedona AZ - Discount Hotels Sedona - Full Guide to Lodging Sedona AZ - KOKOPELLI INN SEDONA
Bountiful Amenities at a Sweet Little Price
Following is a review of Kokopelli Inn Sedona, a Top Discount Hotels Sedona Pick. Scroll on to see why we think Kokopelli is one of the best deals among over a hundred options for lodging in Sedona AZ.
And speaking of options, you can also click any of the following links when you're ready to see more.
Click to Jump?
Sedona Resorts | Sedona Cabins

Sedona Bed and Breakfast | High-End Hotels In Sedona

Motels, Inns & Discount Hotels Sedona | Name Brand Ways To Stay

Sedona Arizona Vacation Homes | Main Sedona Lodging Overview
Top Discount Hotels Sedona © Kokopelli Inn Suites
What You Can Expect from Kokopelli Inn Sedona
Jump to PAGE: All Discount Hotels Sedona AZ
These rooms range in price from about $90 - $300 per night. A pretty broad range. How did it make our Discount Hotels Sedona AZ page?
Considering the amenities, we think the Kokopelli Inn Sedona is a real bargain. For as little as $90 (depending on availability) when you book in advance, you can enjoy some of the following included upgrades with your stay: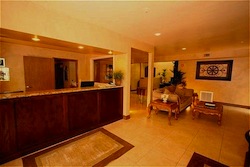 © Kokopelli Inn Sedona
A jacuzzi in the living-space
A fireplace
A gourmet breakfast for 2 delivered to your door
And for families, a huge 2 bedrooms - living room combo, with a full kitchen
And, at any Kokopelli price, every room comes with:
Dual massage shower heads
Flat screen television
Down comforters
Organic bath products
Mini-refigerator
Wi-Fi
Afternoon snacks and (non-alcoholic) beverages
A hot buffet breakfast that includes

Eggs
Sausage
Biscuits and gravy
Notes on Kokopelli Inn Sedona AZ Lodging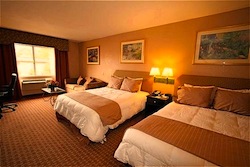 © Kokopelli Inn Sedona
Each suite is a generously proportioned single room (about 30' x 12') with a separate seating area that includes a sleeper sofa. There's a very simple swimming pool onsite.
Pets? Yes. Smoking in-room? No. But they give smokers ash trays if they'd like to smoke outside the suite.
Plus: This is one of the Sedona hotels that observes green practices.
Kokopelli Inn Sedona Suites
3119 W Hwy 89A
Sedona, AZ 86336
928-204-1146 | 800-789-7393
Click Here To See The Website.
Book A Room Online? Click Here.
Return to List of Top Budget Sedona Lodging Picks? Click here.

You are the reason SedonaHappy.com exists, so kindly accept our ATTITUDE of GRATITUDE for your interest in this site and in our beloved hometown.
To go to the HOME page from Hotels Sedona AZ - Kokopelli Inn Sedona page, click here.

The Real Sedona AZ
Red Rock Heaven On A Down-to-Earth Site
---
---
Kokopelli Inn Sedona
Hotels Sedona AZ - A Top Sedona Lodging Pick
Our Visitors Are Our Motive and Our Power