---
Hotels Sedona Arizona style. Locals and visitors share info. Sedona hotels with views. Amenities. Best nearby restaurants and activities. Unique characteristics.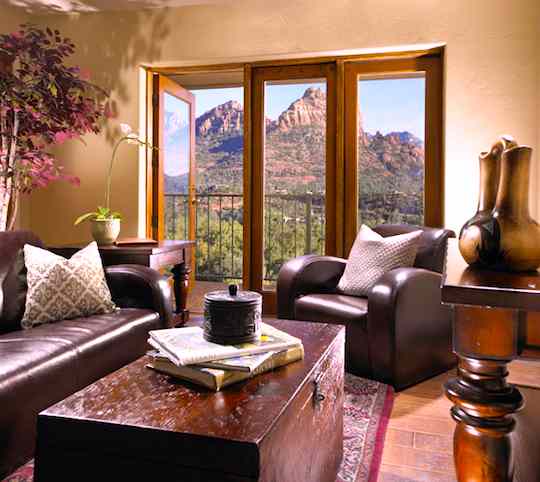 Lobby © Orchards Inn Sedona
High End Sedona Hotels Feature:
Fresh New Lodging At The Orchards Inn
Big Views & A Nice Price
The Orchards Inn is our most recent addition to the High-End Sedona Hotels category, and also the most affordable one. Depending on what you're looking for, this can be a great "no-sacrifice" fit to satisfy luxury tastes at a smaller price.
It's located in the heart of Uptown, where you'll find the globally diverse company of Sedona's highest density visitors. The area is popular for many reasons, including the delightful "buzz" of Sedona activities.
You can also arrive at another favorite place of locals and tourists, Tlaquepaque Sedona Arts & Crafts Village, within three minutes, by way of a the Free RoadRunner Sedona Trolley that stops in Uptown.
The Rooms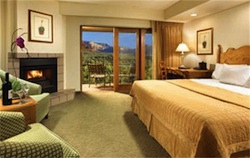 Photo © Orchards Inn Sedona
Every room comes with a great view, and a private patio or balcony.
The rooms of this property are perched hillside. Sweet! And can accommodate up to 4 adults. ALL rooms also include:
A fireplace (gas)
32" flat screen television
Plenty of space
A sleeper sofa and coffee table
Nice desk, data-port, and Wi-Fi
Hotels Sedona Arizona - High End With Views & A Nice Price
How To Get A High-End Room at A Mid-Range Price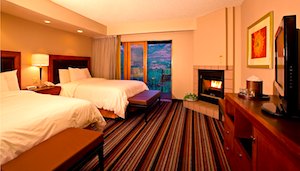 Freshly Remodeled Room © Orchards Inn Sedona
To get the most for your money, ask for one of their most recently renovated rooms (pictured to the left).
These have the best vistas, and include nice touches, like large elegant mirrors, with thick frames, positioned "just so," giving you two Red Rock views!
They cost about $20 more, but the "dollar-to-perk-ratio" makes this the a better deal. The décor in these rooms is fresher. Contemporary, with rich wood and tastefully vibrant accent colors.
These have comfy furniture, including an additional lounge chair, that the other rooms don't have. The patio/balcony windows and doors are bigger and better too. And some have kiva style corner fireplaces.
Hotels Sedona Arizona - High End With Views & A Nice Price
Prices, Notes & Directions
Cost: About $140 - $180 per night, per couple.
Notes: The property has nice sized, but very simply designed swimming pool that faces a wide expanse of Red Rocks and forest. There's a good casual onsite Sedona restaurant, The Orchard's Bar and Grill. And within easy walking distance, you can find a great variety of Sedona restaurants, cafés, art galleries and great Sedona AZ shopping.
Also, one of the best Sedona spas, Serenitē, is close by. There, you can enjoy the same luxurious pampering you would if your were a guest of pricier L'Auberge de Sedona or Amara Resort and Spa.
The Orchards Inn Sedona
254 W Hwy 89A
Sedona, AZ 86336
928-282-2405 | 800-773-3662
Click Here To See The Website.
Book A Room Online? Click Here.
We hope you'll accept a big ATTITUDE of GRATITUDE for your interest in this guide and in our beloved hometown. YOU are the reason SedonaHappy.com exists.


The Real Sedona AZ
Red Rock Heaven On A Down-to-Earth Site
If you'd like to "share-it-forward," and help more people get this Sedona goodness, remember to mention this site to some people. Bookmark it. Share it. Fave it. Link to it. Keep this site growing strong! Thanks all.
Hotels Sedona Arizona - The Orchards Inn
Our Visitors Are Our Motive and Our Power